Get Into the Fun!
The Daffodil Festival gives you plenty opportunity to join in on the fun! If you're into vintage cars you can swing by the Antique Car Show. There's a spectacular art show where you can buy fabulous works of art from local and regional artists. Get ready for winter at the Quilt Show and Art Sale in the 1st UMC Great Hall/Welcome Center. Take a walk through history down by the river to see the Civil War Encampment and battle re-enactors. And don't forget the Championship Steak Cook-off on Saturday. It will be the best steak you'll ever eat.
Walmart sponsored Children's Activities are not just for small children – they for those who are "young at heart" also! Try a hand on an instrument, led by the Henderson University College Students in their Instrument Play Zoo or join the Museum of Natural Resources for a STEM Project and make a creation to take home during the Make and Take event in the Children's Area, 200 E. Washington. These creative arts activities are FREE. Additional fee-based entertainment activities will be available in the adjoining area.
JUMP TO:
World Championship Steak Cook-off
Miss Daffodil Pageant
Art Show & Sale
Painting Contest
Dining with the Daffodils
Civil War Encampment & Show
Quilt Show
Live Entertainment
Antique Car Show
Rock Climbing Wall
World Championship Steak Cook-off
Limited tickets available at Information booth until 4:00 pm.
Must buy tickets in advance!!!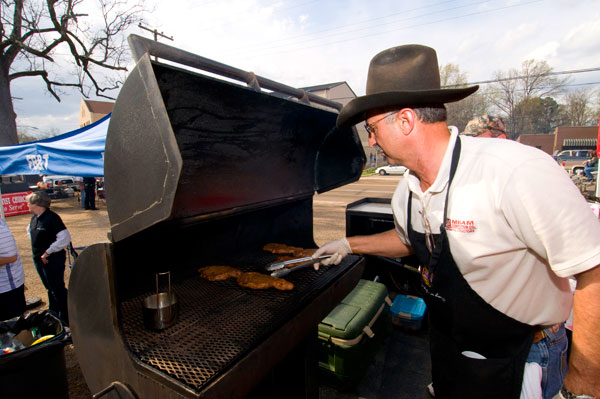 On Saturday evening stay around for the Annual World Championship Steak Cook-Off featuring angus beef rib eye steaks with all the trimmings. Eat well and enjoy the FREE music, Dance in the streets, enjoy our community, and you are most welcome at any of our churches for Sunday morning services.
We hope you will come and bring cameras, casual clothing, happy hearts, and your dancing shoes! Our festival was founded by local citizens and gardeners who wanted to share our charm and give the money to local charities. We have emergency vehicles on hand and lots of security so come visit us, relax, have a good time knowing your money goes for a good cause.
Click here to find out more.
Miss Daffodil Pageant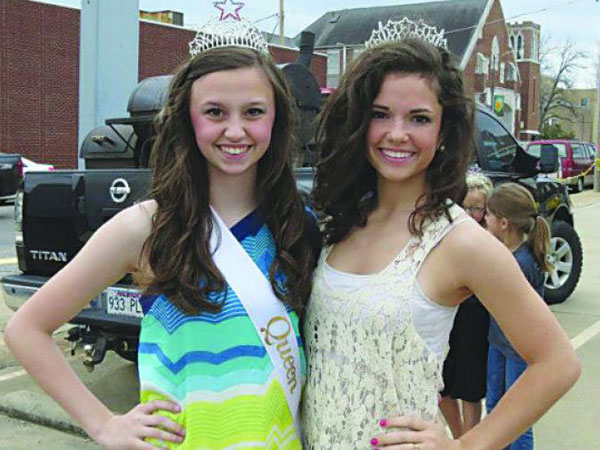 Miss Daffodil Pageant 2018
Date: March 3, 2018
Location: Camden Fairview High School's Little Theatre
1750 Cash Road
Camden AR, 71701
Morning Pageant – 0 to 6 years
Afternoon Pageant – 7 to 18 yrs

Baby to Princess – 0 to 6 years Registration • 8:30 - 9:30 a.m.
Pageant begins at 10:00 a.m.
• Baby Miss 0-12 Months
• Tiny Tot 13-24 Months
• Petite Miss 3-4 Years
• Princess 5-6 Years
Pre-Teen to Ms. Daffodil 7 to 18 Registration • 9:30 – 10:00 a.m.
Pageant begins at 11:00 a.m.
• Pre-Teen 7-9 Years
• Young Miss 10-12 Years
• Jr. Miss 13-15 Years
• Miss Daffodil 16-18 Years
Entry Categories and Fees:
Beauty $25.00
Photogenic* (one photo) $10.00
Extra photogenic photos $5.00 each
People's Choice (no fee)

Entry Fee deadline: March 1, 2018

Beauty Prizes:
Winners receive a Crown & Trophy
1st & 2nd runner-ups receive a Trophy
Photogenic: Winners receive a Trophy
People's Choice: Winners receive a Crown
All contestants will receive participation medals.

Please complete and return this form, with entry fee, by the deadline:
Mail to:
Main Street Camden
P.O. Box 99 Camden, AR 71711
For more info, contact Main Street Camden: 870-836-6426, info@CamdenAreaChamberofCommerce.org.
Click Here to Download the Miss Daffodil Info Packet
Art Show/Sale
1st UMC Welcome & Hospitality Center – March 9th - 10th • 9:00 – 5:00 pm. This is a FREE EVENT!
Local and regional arts will be exhibiting and selling their work at the Daffodil Festival Art Show and Sale in the festival hospitality center at First United Methodist Church Great Hall from 9 a.m. until 5 p.m. Friday and Saturday, March 9th - 10th.
Daffodil Festival organizers are encouraging local businesses to purchase local paintings from the Art Show and Sale to encourage our artists and preserve our art for future generations, and keep them in our community.
For more information call:
Pat Barnett at (870) 231-5018

Juried Art Show & Sale
106 E. Washington - Frame of Mind Art Gallery
Since 2005, area artists have been competing in the festival's annual art contest. The competition is for the best original artwork, which must include daffodils and reflect the spirit of the festival.
This juried art show features a Grand Prize of $1,000 and the artwork will be featured on 2017 Daffodil Festival promotion items including posters and T-shirts.
All artwork entered for competition will be for sale and displayed at Frame of Mind through the end of the festival.
There are also three additional prizes of $300 that will be awarded; one for each of the following categories: Youth, 2-Dimensional, and 3-Dimensional.
The 2017 judging will be at Frame of Mind, 106 E. Washington St., on Tuesday, March 7, followed by an artists' reception at 6 p.m.
Festival organizers encourage local businesses to purchase paintings from the Art Show and Sale to support artists and preserve the art for future generations.
Some of the competing artists and many others will exhibit non- competing artworks during the show and sale in the Great Hall of the First Methodist Church. The church is located on Harrison Street downtown.
There will be a limited number of 2017 festival posters available for purchase at the Show and Sale. The poster features art by Morgan Coven Herndon.
For More Information:
Greg Robertson
870-836-8108
greg@frameofmindcamden.com

Dining with the Daffodils!
March 9 & 10, 11:00 a.m. - 2:30 p.m.
Grace Hill Estate (Old Wire Road / 3675 Ouachita Rd. 3)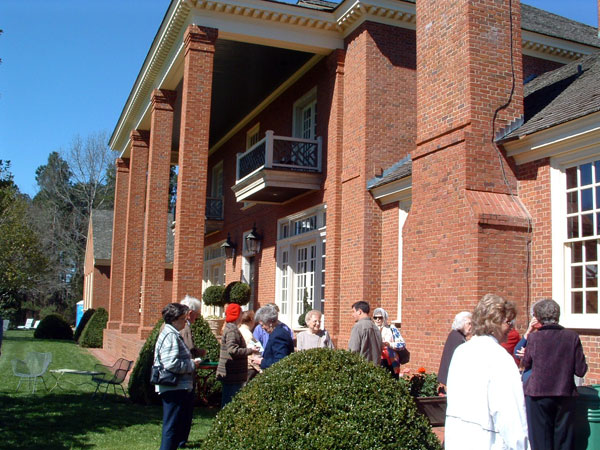 Join us at Grace Hill for lunch on Friday and Saturday from 11:00 until 2:30. Meet us on the back lawn where we will have lunch 'al fresca' and be entertained by a strolling violinist.
~ Menu ~
Choice of French Potato Soup
or
Tomato Basil Soup
Served with a choice of
Chicken Salad Sandwich on a Croissant
or
Grilled Cheese Sandwich (aged Irish cheese) on artisan bread
Dessert:
N'Orleans Bread Pudding with Amaretto Sauce
Sooo good! . . . and all homemade!!!

The cost of the lunch is a suggested donation of $15.00. The proceeds will go toward the development of the Ft. Lookout Museum and Interpretive Park (sponsored by the Ouachita County Historical Society).
You can get to Grace Hill on the Daffodil Festival tour bus, which will run every 30 minutes, or you can drive out (3675 Ouachita Road 3).
Civil War Re-enactors Encampment & Show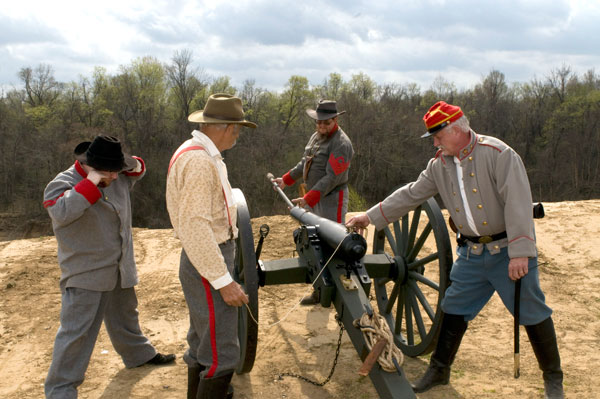 The annual Camden Daffodil Festival is always a great time to enjoy the company of Arkansas Civil War reenactors! Artillery demonstrations are always a hit (no pun intended) with the crowds. Camden is host to serious Civil War history and this event is always a great time to discuss the significance of Camden during the war 150 years ago.
Just follow the sounds of the cannons! There will be infantry demonstrations and The Arkansas Toothpick will be on hand to answer any questions about Arkansas in the Civil War.
See the re-enactors downtown in front of the McCollum-Chidester House Museum on Saturday. Cannons fired hourly. Full infantry will be there at 926 W. Washington. This is a FREE EVENT!
Quilt Show
March 9th - 10th – 9:00-5:00 pm. Fabulous display! This is a FREE EVENT!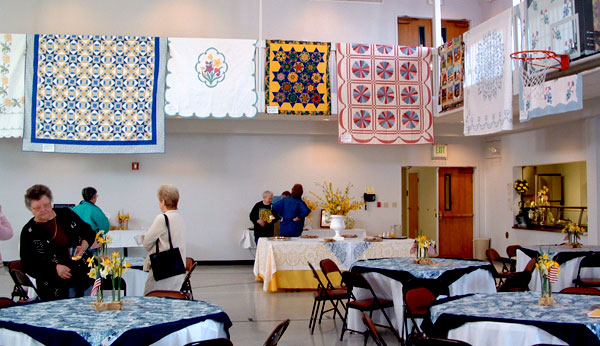 Held at First United Methodist Church Great Hall, The Ouachita Quilters gather quilts donated for the show from Ouachita County residents. The number of quilts at the show is usually around 40.
One of the other projects of this group is to donate baby quilts to the Women's Crisis Center; they have donated 80 over the past years.
Also one of the founding members of the club, Ethel Hickman, was the first woman from Arkansas to have a quilt on permanent display at the World Quilting Museum in Paducah, Kentucky.
For the first time ever, these quilts will be on sale.
Live Entertainment
At the Postmasters Grill Stage for the first time!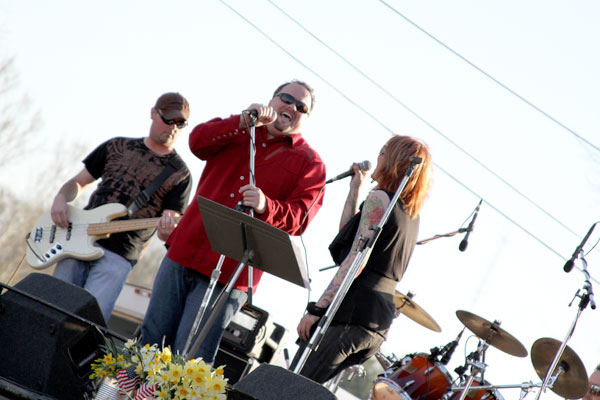 Be sure to take a break and enjoy some of the best local and regional entertainment South Arkansas has to offer. You'll hear bands, local choirs, and singing groups, as well as see dance troupes and other forms of entertainment throughout the day.
Entertainment Schedule:
FRIDAY, March 9th - "Postmasters Grill Stage"
11:20-11:45 - The Leggett Family
11:50-12:10 - Tammy Fogle
12:10-12:25 - CF Middle School Choir (with June Rogers)
12:30-12:55 - CF Ivory (with Mrs. Chelsea Hickmott)
1:00-1:25 - CF Elementary First Grade (with Mrs. Sharise Briery)
1:30-1:55 - HG Hornets (with Mrs. Cathy Worley)
2:00-2:25 - CF Intermediate (with Mrs. Chelsea Hickmott)

SATURDAY, March 10 - "Postmasters Grill Stage"
10:30-10:55 - Gabbie Tidwell (7th Grader Camden Fairview)
11:00-11:25 - Sarah Burns
11:30-11:55 - Josh Jeffers
12:00-12:25 - Tammy Fogle
12:30-12:55 - Steve Reeves (Gospel)
1:00-1:20 - Payton Smith
1:25-1:40 - Ashlyn Ray
1:45-2:15 - Delaney Fogle
2:15-2:40 - Dillon Fogle
2:45-3:10 - Sarah Key
3:15-4:30 - Mitch McKelvin & Jason Phillips
Antique Car Show
CAMDEN DAFFODIL CAR FESTIVAL SHOW
Saturday, March 10, 2017
Register from 9:00 AM - 11 AM
Location: Corner of Haynes & Washington Street (1108 W. Washington St.)
Trophies awarded @ 2:30 p.m.
Car show entry $15.00 per car owner, additional cars no charge.
Cars entered eligible for "Best of Show Award"
Additional judging awards for:
"Best Pre-80 Model" "Best Post-80 Model" "Best Motor" "Best Truck Classification"
Shuttle service to the downtown festival weill be available for car show participants.
For more Information contact John Coons: 870-833-0508
Email: k.coons@att.net
Rock Climbing Wall
Sat, March 10th – Two climbs $5.00.